History
of Ranipet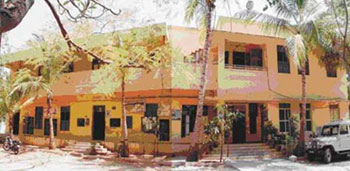 Ranipet Town was built around the year 1771 by Sadullakhan in honour of the youthful widow of Desingh Raja of Gingee-who committed Sati upon her husband's death. Out of respect for Desingh Raja's valour and his wife's devotion, the Nawab formed a new village opposite to Arcot on the Northern bank of Palar river and named it Ranipet.
The town gained importance since the establishment of European contonment. About a mile west of Ranipet is a remarkable thope extending along the Palar river, for a distance of 4.8 Km which is known as 'Navlakh Bagh'. It is supposed to contain 9 lakhs of trees and hence the name "Navlakh Bagh".
The Local legend states that when the Moghuls first occupied Arcot, the lands around were covered with woods, which the Nawab cut down. The birds that were deprived of their nesting places flocked to the palace and tormented the Nawab with their plaintive cries until he appeased them by planting this extensive thope.
Ranipet is the headquarters of the Ranipet revenue Division. Messrs Parry and Company has an establishment here for the manufacture of chemicals and ceramic wares. Dr.Ida Scudder first started a hospital here. Ranipet is also noted for manufacture of leather products and also beedi. The weekly cattle shandy here attracts numerous people from neighbouring areas.
Local Body :
Ranipet town was constituted as a Municipality with effect from 1.4.1959. The town is divided into 30 wards. The extent of the Municipal area is 8.52 Sq.Km. and its population as per 2001 census, is 47236. It is classisfied as a first grade Municipality.